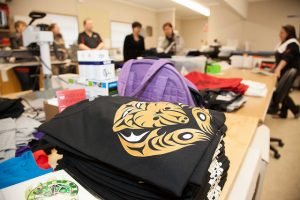 Local Indigenous artists and production trainees creating collectible items are benefiting from a government-funded skills training and work experience project.
"This project encourages artists, while adding a great training element," said Shane Simpson, Minister of Social Development and Poverty Reduction. "It illustrates government's commitment and priorities to work collaboratively to increase opportunities for Indigenous peoples through new economic partnerships, skills training and employment."
Through this project, Stó:lō Nation is training participants in computer-aided light manufacturing, such as laser etching, embroidery, heat transferring and printing, and helping them develop skills in warehousing operations, while supporting artists in sharing their designs on products.
Mable Elmore, Parliamentary Secretary for Poverty Reduction, toured of the facilities and attended an artist open house at the new Stó:lō Interpretive Centre today.
"Art is an important part of Indigenous cultures, and this project supports local artists as they continue to share their own stories through their work," Elmore said. "The project participants are also gaining new skills, which will lead to greater opportunities."
Through Nations Creations, a social enterprise created by the Stó:lō Nation, eight participants are receiving training in producing a wide range of gift items, including prints, bags, bookmarks, glassware, jewelry and clothing, which features artwork by local artists. They are also gaining warehousing experience by filling orders and shipping products to stores across Western Canada, and furthering their learning through on-the-job experience with White Feather Manufacturing and Monaque Native Crafts.
A second group of up to 12 people will begin training in August.
Artists who work with Nations Creations are paid a royalty for each item sold with their design, rather than a flat fee. This provides a more sustainable income over time for the artists.
Theresa Harris, one of the people who participated in last year's project, said, "The Nations Creations program gave me the confidence to pursue a new career, instead of sticking to a job that was unreliable. New training has shown me I can do more and be successful. I was able to successfully gain employment with a large building-supply chain where I am able to put my new skills to work."
Jared Deck, whose "Mother Eagle" design was featured on last year's Orange T-Shirt Day shirt, said, "I've been doing artwork since around 2003. When the opportunity at Nations Creations arose, I thought it was a good opportunity and I had some designs that I decided to submit."
The Ministry of Social Development and Poverty Reduction has committed $606,000 in funding for this project through the Job Creation Partnerships stream of the Community and Employer Partnerships (CEP) program. CEP funds projects that increase employability levels and share labour market information.