COVID-19 has changed all our lives in many ways.  I want to start by saying that the measures you have been taking – physical distancing, staying home, avoiding large gatherings, washing your hands, and self-isolating when sick or after travelling – are working!
Please keep doing these things every single day, and reminding others in your life to do them as well. You are helping to keep our whole community healthy, including seniors and others who are more vulnerable to this virus. It's up to all of us to do our part.
Our Vancouver-Kensington Community Office is providing services for constituents via phone and email. You can reach our offices by calling 604-775-1033 or by emailing mable.elmore.mla@leg.bc.ca
The B.C. Government is committed to supporting people in Vancouver-Kensington and across the province who are facing hardship as a result of COVID-19.  Making sure that people are able to stay safe and stay home during this extraordinary time means making sure people can pay their bills and provide for their families.
That is why the B.C. Government recently announced that British Columbians affected by the COVID-19 pandemic will benefit from $5 billion in income supports, tax relief and direct funding for people, businesses and services. For a full list of BC Government supports and how to access the programs, visit www.gov.bc.ca/covid-19.
These are just some of the supports your BC Government has recently announced:
Hydro bill relief: BC Hydro residential customers affected by COVID-19 can apply for a credit equalling 3x their average monthly bill, to help cover their hydro costs during this crisis. The credit does not need to be repaid. Relief is also available for small business and industrial customers. As of April 1, BC Hydro rates will also be permanently cut by 1% for all customers. More details here.
Eviction ban and rent freeze: During the pandemic, nobody can be evicted (except for extreme cases where there are safety concerns). No rent increases are allowed during the state of emergency. More details here.
Temporary rent supplement: Up to $500/month will be available to low- and moderate-income renters who are facing financial hardship as a result of COVID-19. This will be paid directly to landlords. Applications will be open soon. More details here.
BC Emergency Benefit: A one-time payment of $1000 to people who are unable to work due to COVID-19. B.C. residents who are also receiving Employment Insurance or the new Canada Emergency Response Benefit are eligible. Applications will be open soon. More details here.
Job-protected leave: Workers can take unlimited unpaid leave if they are unable to work for reasons related to COVID-19, without the risk of losing their job. More details here.
Free bus transit and hospital parking: All BC Transit and Translink bus services are currently free, and parking at all health authority sites is also free.
Student loan freeze: Both Canada and BC student loan payments will be paused for six months, with no interest charged on the federal portion during this period. The B.C. portion is already interest-free. This will happen automatically; there is no need to apply.
Student Emergency Financial Assistance:  Domestic post-secondary students who experience an unexpected financial emergency that may affect their ability to finish their studies will benefit from the province's one-time investment of $3.5 million in emergency financial assistance.  Students can apply for this non-repayable assistance through their school's financial aid office.  More details here.
These measures are on top of the financial support announced by the federal government. More information on federal support can be found here.
These are difficult times, but I know we are all up to the challenge.  Together we can slow the spread of COVID-19 in our community.
Once again, please don't hesitate to reach out to my office if you have questions or need any assistance with these programs or supports. You can reach us at 604-775-1033 or by email at mable.elmore.mla@leg.bc.ca
Sincerely,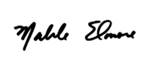 Mable Elmore, MLA
Vancouver-Kensington
COVID Resources:
For medical info, visit www.bccdc.ca or call 811
For non-medical info, visit www.gov.bc.ca/covid19 or call 1-888-COVID-19 (1-888-268-4319) or text 604-630-0300
Take the self-assessment at [covid19.thrive.health]covid19.thrive.health
For seniors looking for additional support, or for those looking to support seniors, call 2-1-1 or visit bc211.ca