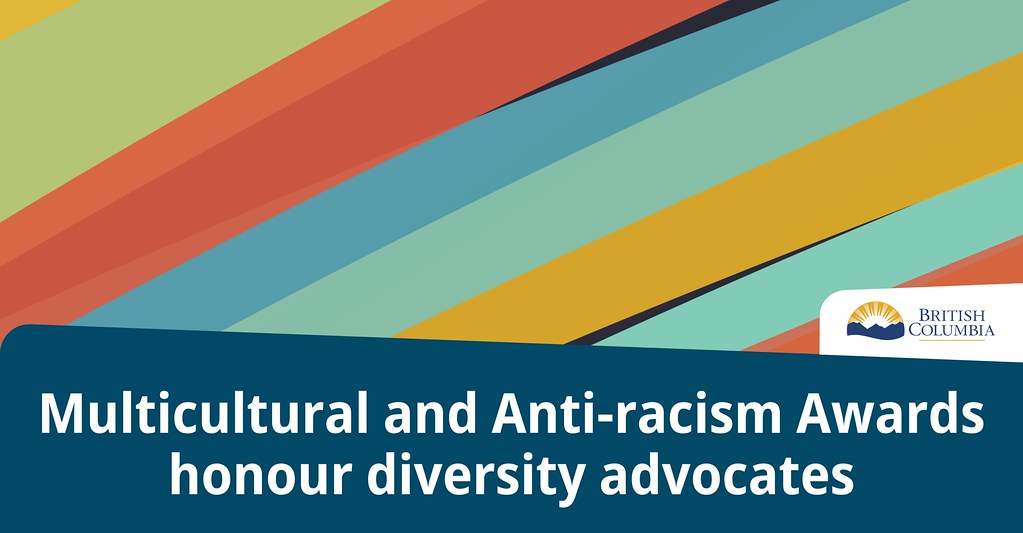 More than 100 people and organizations have been nominated for the 2023 B.C. Multiculturalism and Anti-Racism Awards for efforts to address racism and build a more equitable B.C. for everyone.
The B.C. Multiculturalism and Anti-Racism Awards were held on March 21, 2023, in Vancouver to honour the people and organizations that are addressing racism and promoting inclusivity in their communities.
Due to the COVID-19 pandemic, the 2023 ceremony is the first in-person event since 2019.
"I am so inspired by these community leaders who are using outside-the-box approaches to address racism in their communities. Whether through food or an appreciation for the great outdoors, this year's recipients are finding unique ways to create systemic change by challenging the status quo," said Mable Elmore, Member of the Legislative Assembly of B.C. for Vancouver-Kensington and Parliamentary Secretary for Anti-Racism Initiatives.
Elmore added: "I am grateful to all of the nominees for their efforts this year, and all of the organizations, individuals and volunteers throughout B.C. who are strengthening our communities with their voices, passion and advocacy."
Since launching in 2008, the B.C. Multiculturalism and Anti-Racism Awards have recognized more than 50 individuals and organizations.
Five award winners and six honourable mentions were recognized at the awards ceremony.
Two winners and two honourable mentions were recognized in the Intercultural Trust category for outstanding work in building intercultural trust and understanding and/or reducing racism and hate between communities:
Karelya Medialdea (Prince George): As the community connection co-ordinator at Immigrant and Multicultural Services Society of Prince George, Medialdea launched a program to increase the capacity of affected rural communities to address racism and discrimination by providing free legal education about human rights.
Greater Vancouver Japanese Canadian Citizens' Association (Burnaby): The association offers outreach with several communities, namely Indigenous, Black, Muslim, people of colour, 2SLGBTQ+ and other communities to collectively overcome racism.
Honourable mentions:
Sabrina Bhojani (Richmond): Bhojani is the principal and head of school at Richmond Jewish Day School. She has more than 12 years of experience as a school-based administrator, leading transformation and innovation in both public and private K-12 educational settings. She regularly invites religious scholars and members of the Christian, Islam, Jewish, Muslim, Bahai and Sikh faiths to share their knowledge and background with students to promote rich dialogue, community care, empathy and understanding.
South Okanagan Immigrant and Community Services (Penticton): The organization is dedicated to building welcoming and inclusive communities by promoting cultural harmony and diversity based on the mutual respect and full participation. It is a one-stop shop that provides a range of free settlement services to newcomers in 16 languages. They also host anti-racism forums to educate people to transition from thinking "I am not a racist" to "I am anti-racist."
Two winners and two honourable mentions were honoured in the Breaking Barriers category that recognizes outstanding work in tackling systemic or institutional racism, and reducing barriers for marginalized communities:
Indigenous Women Outdoors (Metro Vancouver): The organization aims to reduce systemic and institutional barriers that keep Indigenous women and gender-diverse people from accessing and enjoying the land for healing and recreation. Indigenous Women Outdoors provides training and certifications to encourage people to feel safe outdoors and become leaders in the outdoor industry.
Battered Women's Support Services Association (Vancouver): An intersectional, feminist voice against violence and oppression, Battered Women's Support Services Association is a strong, dynamic organization that provides support and advocacy for women and gender-diverse people who have experienced intimate partner, domestic and childhood abuse, or sexualized violence. Their impact includes community education and training about violence against women and gender-based violence. Part of a global feminist anti-violence movement, their long-term goal is the elimination of all violence against women and girls.
Honourable mentions:
Shanee Prasad (Burnaby): Prasad is a leader focused on supporting communities through an anti-oppression lens, with a specific focus on anti-racist strategies and tools. To honour truth and reconciliation, she bases her work in community activism on Indigenous teachings of respect, integrity and reciprocity. Prasad has implemented curriculum through Indigenous ways of knowing and being.
Asiyah Robinson (Victoria): Robinson is a program manager for the Leading Change for Resilient Communities program, based out of the Victoria Immigrant and Refugee Centre Society. The eight-month pilot program prioritizes bringing anti-racism education to rural communities and workplaces by empowering community advocates to teach others the skills they need to de-escalate racist incidents and start community discussions to eliminate racism and discrimination.
One person was awarded the Emerging Leader Award that recognizes youth and young adults ages 15-30 for outstanding work in building intercultural trust, tackling racism or reducing barriers for marginalized communities:
Aria Law (Burnaby): After witnessing verbal racist attacks toward seniors, Law, 15, was inspired to connect seniors and youth by selling bao buns with anti-racism themes through a website and social media. She also facilitated community conversations about racism and produced a video about standing up against racism.
The Emerging Leader Award recipient also receives a $5,000 grant to be donated to an organization of their choice. This year, the grant will go to Canada Caring Community Alliance for their continued work with racialized seniors.
Two people were also recognized with honourable mentions in this category.
William Canero (Vancouver): Canero sits on the boards of the Kathara Pilipino Indigenous Arts Collective Society, the Southeast Asian Cultural Heritage Society,  and the Mabuhay House Society, and also works as an organizer for the Joyce Street Action Network. Canero has worked with Burnaby's planning department on ethnic business and farmer protections, arts and culture, and Indigenous co-management research.
Jelina Mitchell (Mill Bay): Mitchell is a remarkable 12-year-old who has been doing anti-racism work for the past five years by teaching Black history and anti-racism at her school. Mitchell was motivated to take on this work because she saw herself being treated differently by both classmates and teachers. She felt if others were informed about her heritage, they would be more welcoming, less judgmental and less discriminating. She started out doing a PowerPoint presentation every week for Black History Month.