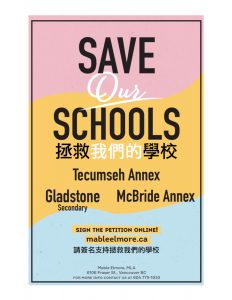 Our province has gone from having the second best funded K-12 education system in Canada to the second worst under this provincial government.  And now sadly, provincial policies are targeting the closure of various schools in Richmond, Victoria and Vancouver.
For our city, the majority of these schools are in East Vancouver and they include three whose students live in our community:  Tecumseh Annex, McBride Annex and Gladstone Secondary.
I oppose the closure of these schools and the provincial policy of underfunding public education.
Help us tell the provincial government that we want our schools saved.
Display our poster and print and sign a copy of our petition.  Download your copy here or pick one up at our office.